As an independent freight forwarder, we offer a genuine complete range of services for transports to and from Greece and Cyprus. From single cartons, pallet consignments, part loads without length restrictions to full loads for tarpaulin, ADR and thermal.
In addition, we offer almost nationwide pick-up options throughout Europe. In the European conurbations such as Cologne, Düsseldorf, Frankfurt, Hamburg, Berlin, Antwerp, Rotterdam, London, Liverpool, Madrid, Barcelona, Munich, Linz, Vienna, we are represented by several trucks every day. As a freight forwarder, we guarantee high flexibility and reliability when transporting goods to Greece. Our own extensive groupage network enables both warehousing and nationwide delivery in Greece. Our own parcel service to Greece rounds off our complete service.
As a full range forwarding agency with a strong focus on transport to and from Greece, we know that we can only offer you all-round customer care by having a local branch office.
Our Greek office is located in GR-60100 Katerini and allows us to consistently take care of your delivery. Furthermore storage facilities in Sindos (Thessaloniki's industrial zone) and in Aspropyrgos (Athens' industrial zone) are at our disposal. Every day our trucks are present in the biggest Greek industrial and urban areas. We operate on every Greek island, including Cyprus.
Our staff situated in our branch office in Greece will be happy to assist you. They speak German, English and – of course – Greek fluently.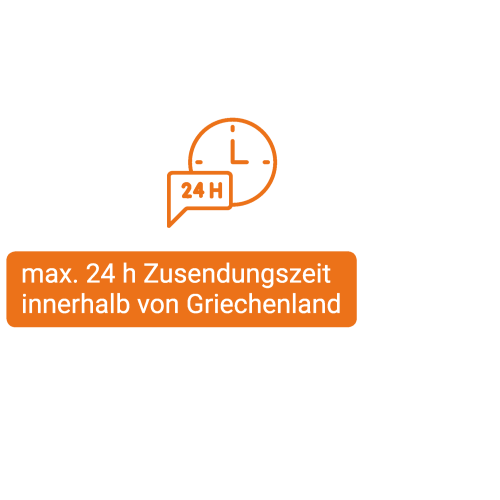 Over 20 groupage departures per week (running time 4-7 days)
Express departures with a transit time between 2-3 days
Own parcel service to Greece and Cyprus with storage facility in Germany
Of course we also handle complete lorry shipments
Dangerous goods transport (ADR) (– transport of almost all classes of dangerous goods
Support for those moving house, including delivery of motor cars and motorcycles
Transporte aus Griechenland
nationwide availability in Greece
Our high freight transport volume and the nationwide availability of trucks allows an ideal transportation of goods from Greece. Our services for transportation from Greece:
Freight forwarding Greece
absolute customer protection
Road Solution offers reliable and safe transport of your goods and guarantees you absolute customer protection. The forwarding company, which is certified according to the international standard ISO 9001:2015, has a wide network of subcontractors in Europe, which enables a high-quality and reliable service.
Your partial and full loads are transported flexibly and reliably within Europe. Thanks to the large partner network of our forwarding agency, you are always guaranteed sufficient freight space for transport to Greece. Our forwarding agency has a high availability of trucks which enables a flexible and safe transport of your goods.
Flexible capacities both for lorries and curtain-sided and mega-trailers
Low-cost timed additional and follow-up deliveries
Practical, fast and always punctual solutions
We look forward to receiving your message! Our well-trained personnel will be happy to deal with your enquiry.